CAC – Computer Art Congress
Dedicated website: computer-art-congress.org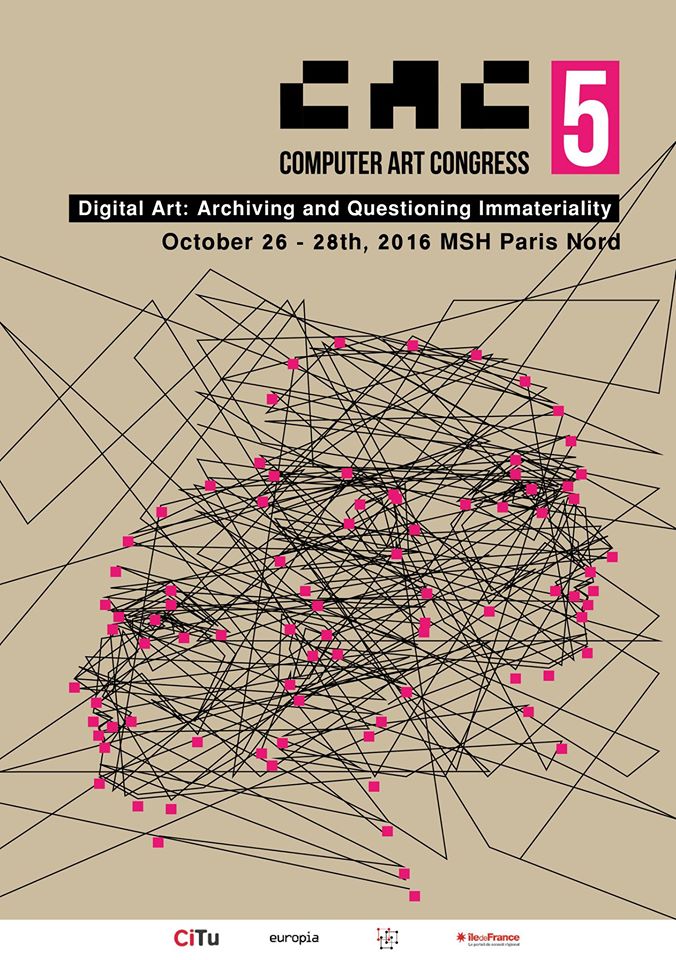 The Computer Art Congress is an international gathering around art, science, technology, and design. Its first edition was celebrated in Paris (2002), then the CAC traveled to Mexico City (2008), then came back to Paris (2012), and recently was hosted in Rio de Janeiro (2014). In fourteen years, a community of artists, curators, researchers, scholars, scientists, designers, students, and professionals has contributed to the domain with artworks, papers, round tables, workshops and exhibitions, exploring questions such as "emerging forms of computer art", "post-digital art", and "computer art for all".
2016 edition "Digital Art: Archiving and Questioning Immateriality" – Call for contributions
October 26 – 28th, 2016 – Paris, France
In 2016, the 5th edition of the Computer Art Congress will take place in Paris, organized by the Citu-Paragraphe research team at University Paris 8 in partnership with the University of Michigan, the University of Hong Kong, the Universidade Federal do Rio de Janeiro and the RAN (Réseaux d'Art Numérique). The selected topic for this edition is "archiving and questioning immateriality".
CAC.5 calls for contributions interested in reflecting on the artwork as a material object, but also invites a consideration of the complex processes that surround a work of art. In this respect, the artwork might be regarded from the potential emotional and or intellectual effects that it might trigger, whether foreseen or not in advance by the artist. Such effects could be deployed in small or large scale, from small teams to the entire world via networked technologies and distributed exhibition spaces. However, the Internet and electronic devices have proven to be less stable and long-lasting than they seem. How should one deal with artworks when we take into account their multidimensional nature (designed for and perceived in a non stop shifting universe): temporal, spatial, exploratory, communicational, collaborative? Any inquiry of archival and representation becomes a complex subject.
CAC.5 believes that such entry points raise problematic issues that also demand one to interrogate the "Material" supports that give form to an artwork; the archival methods that artists, curators, collectors and institutions employ in their practice; the remix and re-cataloging appropriations that common users and audiences put in place; Furthermore, we hope these initial questions will push our discussion towards speculative visions on archiving subjectivity, creating obsolescence, and preserving/conserving meta-organic relationships (i.e. relations among technical, social, and individual organs understood as autopoietic organisms).
The list of topics prefers but is not limited to:
– Archiving Art, Design, Science, and Technology
– Matter and substance of artworks
– Physical and metaphysical effects of artworks
– Space and time of artwork effects
– Perception and uses of artworks
– Speculative scenarios for artwork deployment, distribution and manifestation
– Art and data
– Digital art and culture
Important dates
March 13, 2016: Artwork, Short Paper, Workshop and Demo Submissions
April 30, 2016: Decisions on Artwork, Short Paper, Workshop and Demo Submissions:
August 1, 2016: Camera Ready Submissions for all Papers
Art Exhibition: October 24 – 28th, 2016
Congress: October 26 – 28th, 2016
EasyChair submission link: easychair.org/conferences/?conf=cac5
Previous editions
CAC.4 – Computer Art & Design for All
September 1-3 2014 – Rio de Janeiro, Brazil
The 4th edition of CAC was organized with the collaboration of NANO LAB, supported by the Graduate Program in Visual Arts, at the School of Fine Arts of the Federal University of Rio de Janeiro.
NANO Lab was established in September 2010. Aims to develop practical and theoretical research in the area of ​​arts with specific focus on their intersection with technology and science, offering laboratory space for practical and theoretical research in the thematic area of hybrid-natures. The motivation of this research Lab is to consolidate a transdisciplinary space for reflection and promotion of new cognitive models based on practical and dialogical exchanges.
CAC.3 – PostDigital Art
November 26-28 2012, at 104 (Centquatre), Paris, France.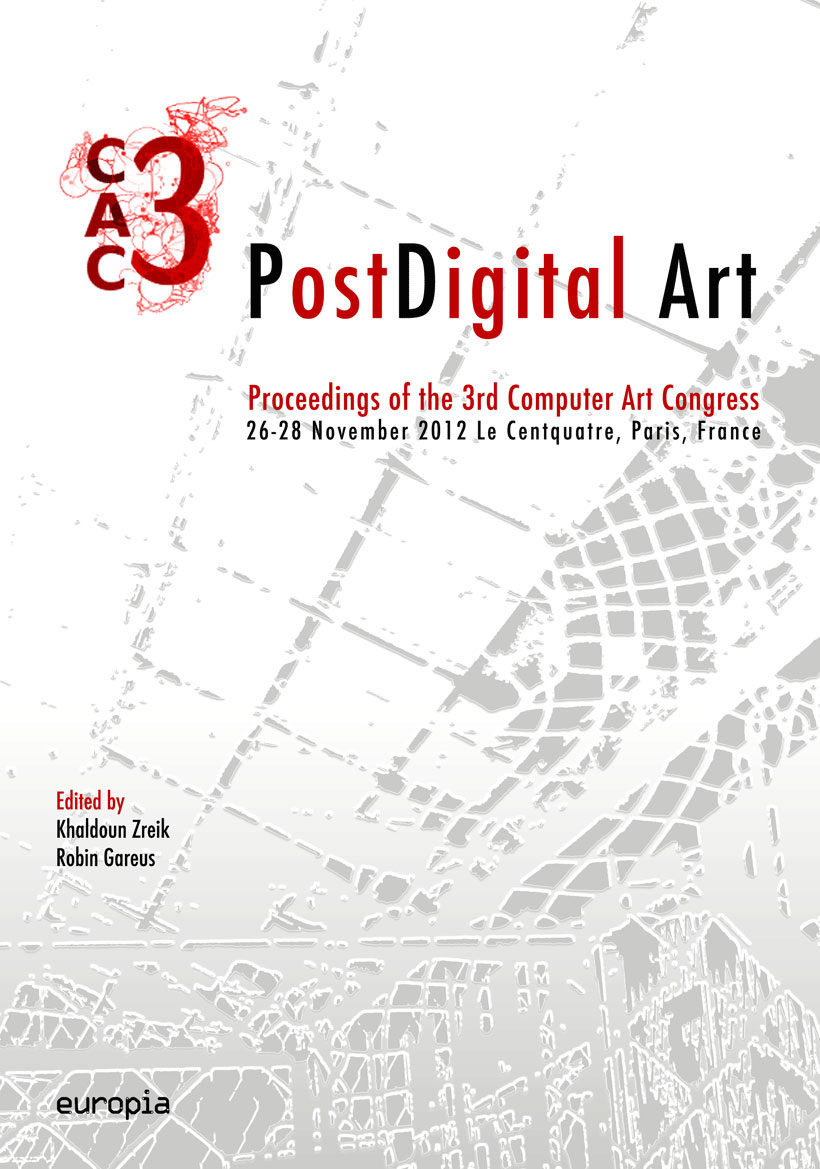 CAC.3 invited artists, intellectuals, engineers and scientists to share and discuss their imaginations, creations, inventions and visions of the post digital art. The world has never appropriated technology in the same way that digital. This technology has penetrated and dominated almost, different facets of our everyday life: cognitive, cultural, economic, psychological, social,…
CAC.3 challenged actors of the society to rethink their innovation approaches and the way they perceive the world, to explore new dimensions of our space, to go forward, to trace their own path. We counted on the abilities of artists to explore digital and extra digital spaces in order to anticipate new technological issues that can influence our post digital world.